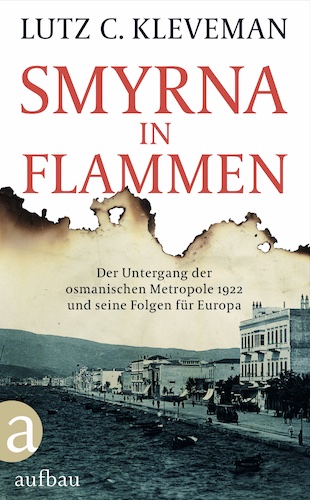 BERLIN, AUFBAU, 2022
How the Fire of Smyrna changed Europe
It is the 100th anniversary of a seminal event in world history: the Great Fire of Smyrna in September 1922.
The wilful destruction of this legendary cosmopolitan metropolis, today's Izmir in Turkey, killing tens of thousands of its inhabitants, was one of the worst war crimes and humanitarian tragedies of the 20th century.
Known as the "Pearl of the Aegean", Smyrna was a prosperous port city and home to Greeks, Turks, Armenians, Jews, Europeans, Americans, and Levantines. In an atmosphere of religious tolerance, the communities lived together and created a uniquely mixed urban culture that made Smyrna the first global city in the modern sense.
The burning of Smyrna in 1922 led to a massive refugee crisis across the region. In response, Turkey and Greece agreed on a gigantic population exchange, in which millions of Ottoman Muslims and Christians were forcibly expelled from their ancestral homes and re-settled.
The population exchange of 1923-24, the first state-organised ethnic cleansing in world history, would serve as a blueprint in Europe for the 20th century expulsions and deportations.
Today, as many developments seem like a re-run of the 1920s, the Smyrna story is more relevant than ever.
"Lutz C. Kleveman weaves his various stories together with ease, creating an opulent but intimate portrait of a place and its texture, a painting of a monstrous crime, a meditation on identity and exile, as well as personal encounters, which place Europe's current treatment of desperate migrants in a historical context. A masterpiece."
Philipp Blom
---
---
Praise for SMYRNA
"A great book"
Arno Widmann, Frankfurter Rundschau, 08 September 2022
"A very good new book"
Michael Thumann, Die ZEIT, 09 September 2022
"Lutz C. Kleveman is to be thanked for saving Smyrna's tragedy from oblivion."
Berthold Seewald, Welt am Sonntag, 03 September 2022
"The history of Smyrna, vividly told by Kleveman in a mixture of historical narrative and personal travelogue, compresses the region's tumultuous history as if under a burning glass."
Florian Keisinger, Neue Zürcher Zeitung, 03 June 2022
"Lutz C. Kleveman calls the old Smyrna a "global city", such as Dubai or Singapore today."
Christiane Schlötzer, Süddeutsche Zeitung, 10 September 2022
"In his book, Kleveman combines personal experiences with literary discoveries and political history in breath-taking frequency (…) The general tone is curious and well-read, but never lecturing. He offers an impressive wealth of history and stories, which never gets tiring."
René Wildangel, German National Radio, 09 May 2022
"With an impressive wealth of stories in his book, Lutz C. Kleveman brings the cosmopolitan Aegean metropolis back to life."
Roswitha Buchner, Radio Bavaria, 30 Oktober 2022
"This book be heartfully reommended. Kleveman approaches the Minor Asian coast like an explorer and a travel writer."
Harald Asel, Berlin Inforadio, 10 September 2022
"Lutz C. Kleveman deals with his subject in a well-proven manner. As his previous books, eg about the city of Lviv, ›Smyrna in Flames‹ is a historical-political travelogue… an exciting and elucidating reportage."
Wolfgang Koydl, Die Weltwoche, 16 June 2022
The result is a book that, in its elegant mixture of genres, is more common in the Anglo-Saxon world: a literary travel report full of atmosphere and enlightening dialogues, in-depth historical analysis and, above all, a reflection on the murderous nature of city hatred and nationalism.
Marko Martin, mare Magazine, October 2022
"In a riveting and detailed manner, ›Smyrna in Flames‹ by Lutz C. Kleveman explains the background and reasons for the numerous political, territorial, ethnic, and cultural conflict that have haunted the region from the 19th century till today."
Bodo Bost, Preußische Allgemeine Zeitung, 12 August 2022
"Kleveman takes his readers on a journey to Greece and Minor Asia. For over a year, he did his research, conducted interviews, studied old books and documents to attain certainty."
Pia Sophie Roy, Neues Deutschland, 07 September 2022
"Do we really need to know that Kleveman rents a red scooter or that he is unvoluntarily single? Undeniably, transcending the genre towards travel report and impressionistic descriptions makes for lightness and a certain flair – also, his book is accessibly written and elucidating as a nutshell account of a catastrophe with global consequences."
Alexander Kluy, Der Standard, 26 March 2022