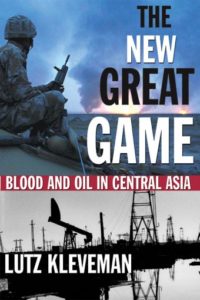 New York and London, Grove Atlantic, 2003
The Caspian Region, lying south of Russia, west of China and north of Afghanistan, contains the world's largest untapped oil and gas resources. As much as 200 billion barrels of crude oil and 40 per cent of the world's global gas reserves can be found in Kazakhstan and Azerbaijan.
In the years between the death of the Soviet Union and September 11, 2001, oil companies and politicians have struggled to possess and develop these resources. Using a concept immortalised by Kipling in his novel Kim, Lutz Kleveman argues that there is now a new "Great Game" in the region, in which the US, Russia, China, India, Pakistan and Iran – most of which are nuclear powers – are competing.
He contends that after 9/11, the formidable power of the US has started to drive towards "full spectrum dominance"; that is, global hegemony in the military, political and economic sphere. Kleveman has produced an insightful and exacting portrait of a new theatre of war, a region in which there are few rules and in which the rewards for victory are nothing less than power and prosperity in the new century.
"THE NEW GREAT GAME is an urgent, vigorous insight into a vital issue of the new century. It is undertaken with clear sight and bulldog energy."
Colin Thubron, Author of The Lost Heart of Asia
Praise for THE NEW GREAT GAME
"A powerful, compelling book… in the very best tradition of foreign reporting."
Misha Glenny, The Observer, 2 November 2003
"Mr Kleveman links the instability of the region to oil greed. [He] feeds his argument with enlightening historical background and colourful anecdotes from his extensive travels and interviews."
The Economist, 20 November 2003
"Lutz Kleveman takes readers on a fascinating trip through 10 countries (…) and tells a spellbinding tale of "blood and oil" on an authentic frontier full of bandits, gangs, crooked politicians, modern-day robber barons and even whole renegade provinces…"
David Whelan, San Francisco Chronicle, 21 September 2003
"A timely, panoramic book. Although Kleveman has worked as a war correspondent himself, his inclinations here are less macho and more inquisitive than the norm."
Andy Beckett, The Guardian, 11 October 2003
"This book's strength lies in the author's sharp journalistic eye, and his apparent fearlessness."
Michael Church, The Independent, 14 October 2003
"Travelling with some danger to himself and marshalling the political and historical facts with authority, Kleveman [produces] a coherent study of a notoriously complex and unpredictable region, much of which is torn by terrible violence and civil wars."
Patrick French, Sunday Times, 19 October 2003
"[The author] can take credit for a book that is essential for those seeking as many views as possible on this complicated moment in history."
Eli Sanders, The Seattle Times, 26 October 2003
"Kleveman brims with ingenuity. Enjoyable, gripping, important… His reportage is first-class and his findings truly enlightening. I wished that the author would turn out to be British."
Hazhir Teimourian, Literary Review, 1 November 2003
"A well-argued, well-observed journey into a little-known area likely to be of much importance in days to come."
Kirkus Reviews, 15 July 2003
"On the whole, the book impresses. Kleveman risked his neck traveling across Central Asia to interview a diverse cast of characters: diplomats and mullahs, businessmen and border guards. (…) a brilliant exposition of the competition for oil."
Carlos Ramos-Mrosovsky, National Review, 29 September 2003
"Lutz Kleveman is liberal in his biases, but he does not hide them, and this is a fair and well-reported book."
Tim Marchman, The New York Sun, 19 November 2003
"The book is clever. Kleveman has traveled thousands of miles and spoken to scores of important and interesting people. Unfortunately, all the entertaining reportage is a cover for an insidious attack on the United States."
Andrew Apostolou, New York Post, 25 January 2004
"The timing of Kleveman's travels was in some ways highly fortuitous, as he was on the front lines of the post-Sept. 11, 2001."
Kim Iskyan, The Moscow Times, 28 May 2004
"A cast of shady characters worthy of a le Carré novel… Part travel-writing, part polemic, this eminently readable book slots the hostilities in Iraq into the context of a much longer-term struggle for resources."
The Observer, 22 August 2004
"[Kleveman's] report is at its most unsettling when local warlords and magnates, fuelled with vodka, open up to him. At some risk to his life, he has doggedly reported on the new Klondyke."
Iain Finlayson, The Times, 11 September 2004
"Kleveman has produced a convincing and well-researched book, part travelogue, part geopolitical primer, providing a fascinating study not only of an area that is likely soon to become as problematic as the Middle East, but of America's oil-dominated foreign policy."
Sunday Times, 3 October 2004
"Like many before him, by portraying international affairs in Central Asia as a zero-sum geopolitical 'new great game', the author sacrifices accuracy on the altar of romantic sensationalism."
International Affairs: Volume 80, Issue 2, 2004
"The author's investigations took him on a journey of thousands of miles – the result is a direct and racy account, written mostly in the present tense and with plenty of dialogue."
History Today: November 2004