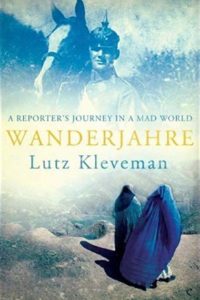 London, White Glove, 2014
Foreign correspondent Lutz Kleveman has reported from some of the world's most perilous conflict zones, from the Balkans to the Middle East, for the Daily Telegraph, Newsweek, and Playboy Magazine.
In WANDERJAHRE, Kleveman retraces his career during the turbulent years 2000 to 2008, beginning with his first job for the Daily Telegraph as a happy-go-lucky stringer in Yugoslavia, Sierra Leone and Chechnya, covering the post 9/11 wars in Afghanistan and Iraq, the drug wars in Colombia and South East Asia, and ending in the surreal madness of North Korea.
War-weary, Kleveman begins to question how much of his restless attraction to conflict zones was rooted in his family history. Turning his sharp journalistic eye inward, he investigates the story of his mysterious late grandfather Hans-Heinrich who, as a young air force pilot in WWI, was shot down over Russia, and later became a high-ranking army officer in Hitler's Wehrmacht.
WANDERJAHRE is a gripping personal memoir and a compelling coming-of-age journey at a time when the world turned mad.
Praise for WANDERJAHRE
"This is a bold book… charting the emotional and intellectual growth of a young man, from raw stringer to seasoned reporter… His depiction of the modern world as a place of chaos and violence… is both infinitely convincing and utterly terrifying."
Caroline Moorehead, Times Literary Supplement, 7 January 2015
"Kleveman is one of those alpha-male types who enjoys courting trouble. In Burma, he gave an angry general a Hitler salute. He entered Laos claiming to be a nuclear weapons inspector. In North Korea, he drove his minders crazy by trying to take photographs of starving farmers."
Marcus Tanner, The Independent, 8 June 2014