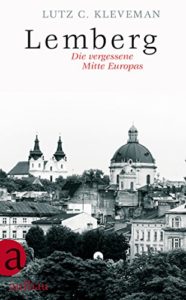 BERLIN, AUFBAU, 2017
Lemberg is the Habsburg-era name for the city of Lviv in Ukraine that was once one of Europe's great multicultural metropolises.
In the early 20th century, the long-time capital of Habsburg Galicia boasted enough modern artists and scientists to rival Berlin and Vienna. It was considered the cosmopolitan 'Jerusalem of Europe', where Poles, Jews, Ukrainians and Germans lived side by side.
Then, as in so many Central European cities, the Second World War, Stalin's deportations, the Holocaust, and forced migration drained Lviv of nearly all its inhabitants – and its memory.
After the outbreak of the Russo-Ukrainian war in 2014, Lutz Kleveman travels to Lviv to search for the conflict's historical roots and uncover the city's past that is still buried under Soviet cement and silence. In his portrait of Lviv, mixing historical research and contemporary reportage, Kleveman brilliantly tells the story of Europe and how the continent has become what it is today.
"In a lively and very personal style, Lutz C. Kleveman explores the history of this fascinating city that possesses so many pasts and was the stage for so many cultures, dreams and tragedies. An immense joy to read!"
Philipp Blom, The Vertigo Years: Europe 1900-1914
---
Praise for LEMBERG:
"Extremely rewarding reading"
Alexander Kluy, Buchkultur, April 2017
"A melancholic homage to a great European city"
German Press Agency (dpa), 13 June 2017
"Kleveman has an easy, flowing style, and the capacity to take the reader into the library and then out onto the street again. One of the strengths of the book is how much emphasis Kleveman places on compelling stories and intriguing anecdotes."
Samuel J. Kessler, German Studies Review, Februar 2018
"From memoirs and diaries of Lemberg artists and thinkers [Kleveman] reconstructs the city's intellectual life across ethnic boundaries… recommended!"
Stephan Stach, Frankfurter Allgemeine Zeitung, 07 July 2017
"Vividly written… weaving historical material with biographical accounts by important Lemberg writers, artists and scholars. The book resembles a collage, gained from the sunken layers of a long-forgotten city in the centre of Europe."
Volker Breidecker, Süddeutsche Zeitung, 21 September 2017
"Kleveman's book is so suspensefully written and packed with knowledge that the reader learns more about Lviv's history than on any educational city trip."
Florian Oegerli, NZZ Neue Zürcher Zeitung, 26 March 2017
"Here Lutz Kleveman's new book is worth the read, particularly on the difficult Polish-Ukrainian history… He scratches off Lviv's pretty surface and leads us into the contradictory and bloody past of this Polish-Ukrainian-Jewish-Habsburg city."
Michael Thumann, ZEITonline, 01 December 2017
"Part essay, historical research, and travelogue… with unbiased curiosity Kleveman circles around the city, searching and without triumphant moralism."
Stefan Reinecke, Tageszeitung (taz), 08 July 2017
"Kleveman gives the city its history back… A thorough and comprehensive history book about a fascinating city, whose lovely facades have long concealed monstrosities."
Sabine Adler, German National Radio, 24 July 2017
"A remarkable new book… written in Anglo-Saxon style."
Ute Büsing, Radio Berlin, 09 April 2017
"Impressive and very moving… a mix of lively journalism and essay-style observations."
Bernd Schekauski, MDR radio, 19 July 2017
"Kleveman dives deep into the city's history… he knows how to unfold a grand historical panaroma."
Claas Christophersen, NDR radio, 20 March 2017
"With his book Kleveman has pulled away the 'cloak of silence' which covers the city to this day. For this he deserves the utmost respect."
Bettina Schulte, Badische Zeitung, 29 March 2017
"A sensationally good and important book"
Jüdische Allgemeine Zeitung, March 2017