I had to get out.
Out of the hotel, out of the city, to another place, away from it all. I decided to do a day trip to Aegina.
That gentle island, a mere 45-minute ferry ride from Piraeus, was my favourite place to visit on weekends. It had some interesting ruins, and its hills were great for wandering.
I strapped on my boots and walked to the port. It was Sunday morning but the streets of Piraeus were deserted, all cafés were closed, group gatherings banned. Social distancing. The one exception: the churches were still open. They were crowded as ever, with priests even dishing out supper and having their flock drink from a single chalice.
For fear of offending the Church, the most powerful institution in Greece, the conservative Mitsotakis government had so far exempted churches from the shutdown.
Faith is stronger than the virus, an Orthodox Church official had claimed on TV, and hence people would be unlikely to get infected at church.
Yeah right.
The ferry to Aegina departed on time. Normally full of day trippers, I now counted only seven other passengers, all sitting at maximum distance from each other. A ghost ship almost.
We passed the Aida Bella, a cruise ship of more than 1000 cabins which, a few days earlier, had docked in Piraeus. All passengers had been flown home. They must have been relieved.
Further on, a Chinese freight ship came our way, loaded with hundreds of steel containers. It had probably left China before the virus outbreak. A few years ago, when Greece was broke, the state leased the port of Piraeus for 99 years to a Chinese conglomerate. It became part of China's Silk Road strategy to flood Europe with its products. Would such global supply chains survive the virus?
Aegina island came into view.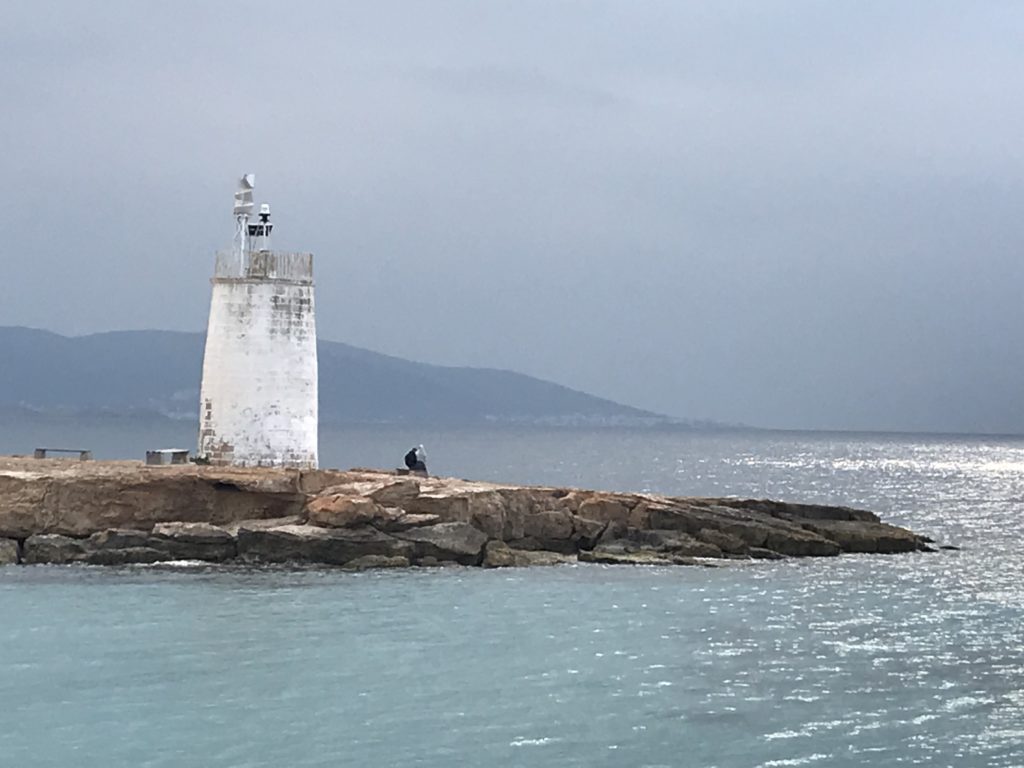 It was renowned for its fine pistachios and Nikos Kazantzakis who lived here during the 1930s, to write his most famous book, Zorba the Greek. It was later turned into a film, starring Anthony Quinn as Alexis Zorba dancing sirtaki on a Cretan beach. Book and film were largely to blame for the misconception of Greek men all being eccentric individualists when in reality it would have been hard to find a more conformist bunch of bores who all dressed the same and constantly worried about what "people might think".
A year spent in Greece, and I had met not one Zorbas.
The ferry pulled into Aegina port, lined with pretty houses and cafés. They were all closed, dashing my hopes that the few policemen on the island would not enforce the shutdown as strictly as on the mainland. I managed to get a take-away coffee. The barista looked worried.
"We're not happy about day-trippers coming from Athens anymore", he said. "They might bring the virus to our island. So far we're clean here, and we would like to keep it that way."
What was he suggesting? I asked.
"That they stop the ferries immediately."
It was an extraordinary thing to say. Ferries were the lifeline for the Greek islands, bringing people and provisions, connecting them with the outside world. All islanders knew the ferry schedule by heart, and many had a special app showing the real-time position of all ferries throughout the Aegean Sea. If most people around the globe small-talked about the weather, Greek islanders discussed naval affairs every day: which ferry had just left Piraeus, which ones were delayed, and which ship might be forced by a storm to halt her journey.
Ferries mattered to me, too. Stricken with chronic restlessness, I had chosen Piraeus as a base that offered limitless getaways to a thousand places on any given day. Chios, Samos, Mykonos, Hydra, or Aegina – the mere possibility of escaping to somewhere else offered mental comfort. And like many contemporaries, I considered freedom of travel an inalienable human right.
If they cut the ferry links, it would be very bad news.
I walked towards the northern lighthouse, past the ruins of ancient Aegina. Despite its proximity to Athens, the island was still quite undeveloped. Some weekend houses dotted the coastline but it was not ravaged by massive hotels yet. Instead, I walked through pistachio groves and past twisted olive trees. Lemons were ripening in the springtime sun.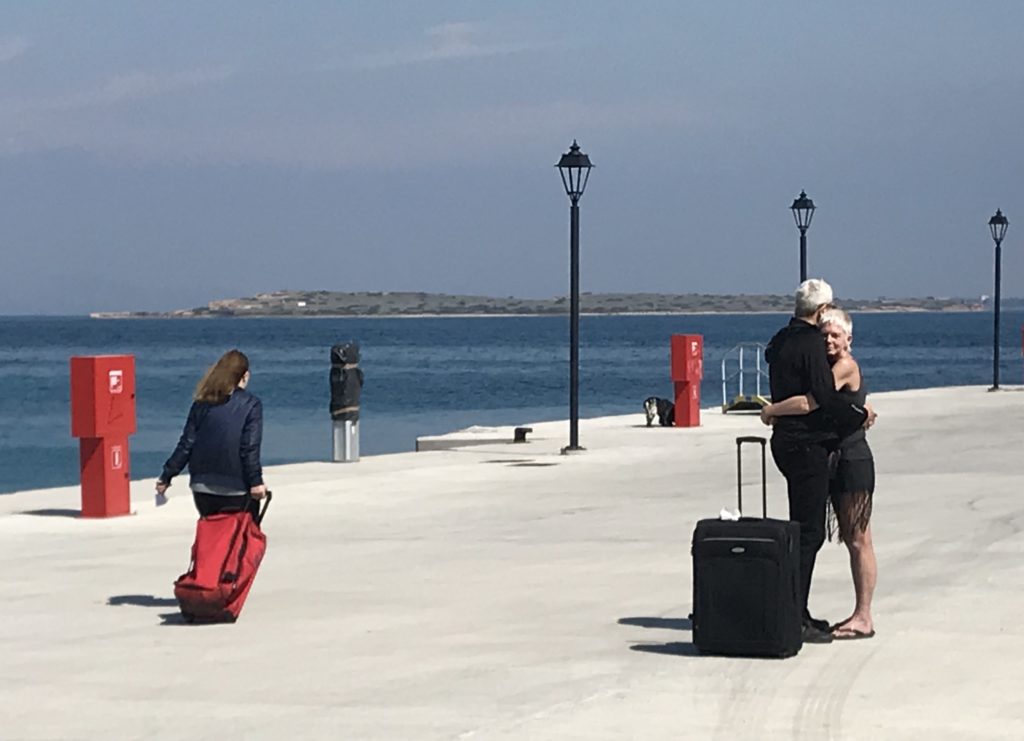 The lighthouse, a modest white tower, stood silent on a rock. A teenage couple sat at its base, kissing as if there was no tomorrow. I envied them.
Back at the port later, waiting for the outbound ferry, I saw another couple, much older. They stood on the wharf, locked in a tight embrace. There was something tragic about them, the woman sobbed as the man spoke to her softly, in English.
"I must go home."
"Yes I know."
She sounded Greek. There was no unobtrusive way to find out but I imagined them to be lovers and the man to be leaving for England. There was a sense of urgency in his words, of a premature departure, presumably caused by the virus pandemic. They were not parting but being torn apart, not knowing when, if ever, they would see each other again.
Later, on the ferry back to Piraeus, the man stood on deck waving at the woman until her figure, immobile, had shrunk to a tiny dot. At last, he lowered his arm and turned around.
He looked strangely relieved.